Long known as the world's undisputed home for all things country music, Nashville has seen its fortunes turn towards new residents seeking something other than a singing career. A recent population boom fueled by a hot and continually growing jobs market has placed Nashville as one of the country's top cities for relocation. Of course, all those people need somewhere to live.

Thankfully for all the new transplants or local homebuyers, including you, Nashville boasts an incredible collection of neighborhoods and communities to call home. Each of Nashville's most in-demand enclaves boasts distinctive lifestyles, wonderfully unique atmospheres, and stellar luxury residences.

More than just places to live, these are the communities in which you'll thrive. Let's explore Nashville neighborhoods you'll love.
12 South / Hillsboro-Belmont
We start our tour with one of Nashville's most charming neighborhoods—the collective area that includes the 12 South and Hillsboro-Belmont communities. Ten minutes south of downtown Nashville and half that from Vanderbilt University, there's plenty to love in this unique enclave.

12 South features quaint streets and the majestic Sevier Park. The area's namesake, 12th Avenue South, is one of Nashville's favorite gathering spots, with wonderfully eclectic shopping and many bars and restaurants, as well as the famed "I Believe in Nashville" mural.

Slide over to Belmont Avenue, and the scene shifts to a more residential setting, but one that's close to the best of Nashville. Trendy by every measure, Belmont offers a breezy lifestyle. Stone-clad Tudors and brick cottages charm underneath a lush green canopy. Few neighborhoods in Nashville are as aesthetically pleasing.
Belle Meade
Also, incorporating neighboring West Meade, if grand living and exclusivity is your style, Belle Meade will prove your neighborhood of choice. Though only three square miles, Belle Meade packs plenty of 'wow' into that footprint. Several high-end eateries call the area home, and Percy Warner Park and Edwin Warner Park are favorite spots to stroll. Famous figures flock here - Amy Grant, Vince Gill, and Al Gore have lived here, and the multi-million dollar mansions are simply jaw-dropping.
Downtown
If you want to experience Nashville in all of its Music City glory, head Downtown. An abundance of live music venues, a stellar restaurant and bar scene, several celebrated museums, and a majestic riverfront park - few, if any, downtowns in the south can offer a more dynamic experience than Nashville's. And if you want opulent, high-end living, it's easy to find in the community's numerous luxury high-rise condos.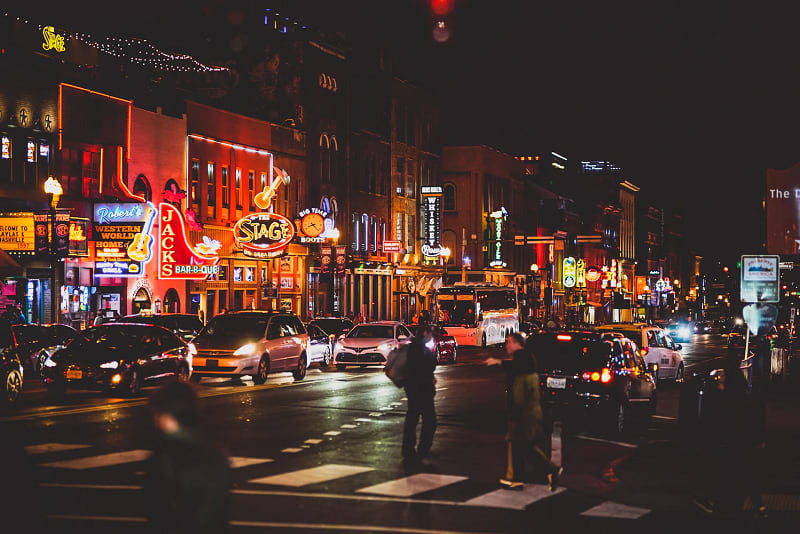 East Nashville
Nashville's largest neighborhood is also its buzziest. There's history here—Victorian-era homes and old-school bungalows are commonplace, but an influx of young professionals and families has given rise to a stellar foodie scene, top breweries burgeoning arts and music movement. And just across the Cumberland River is Music Valley, home to the Grand Ole Opry and the Gaylord Opryland.
Germantown
Situated to the immediate north of downtown Nashville, Germantown is the city's most historic neighborhood. Recognized as the city's first suburb, the community's rustic, old-timey aesthetic is not to be missed. Brick sidewalks and historic homes (many of which have been painstakingly restored and cared for) dot practically every street. But there's also plenty to do and see: the Tennessee State Museum, First Horizon Park (minor league baseball stadium), and the Nashville Farmers Market. All of it is easily accessible by foot.
Green Hills
If Belle Meade is the stately mansion, Green Hills is its grand and opulent front porch. High-end shopping and dining are on offer in abundance in Green Hills, but the tree-lined streets and beautiful homes are the real stars. Though the private, Christian college Lipscope University adds a youthful touch to the proceedings, Green Hills proffers one of Nashville's most affluent lifestyles.
Sylvan Park
Without question, Sylvan Park is one of Nashville's most family-friendly enclaves and one of its youngest, demographically speaking. Sylvan Park is home to comfortable residences - both new builds and historic abodes - outstanding schools, many great dining experiences, and high walkability. The community is also incredibly green and provides many outdoor adventures.
Wedgewood Houston
If you aim to settle into a Nashville neighborhood on the rise, look no further than Wedgewood Houston. Known locally as "WeHo," the community is most widely recognized for the Tennessee State Fairgrounds and Nashville Speedway, which tuck into the area's southeastern corner. Once an industrial and manufacturing hub, WeHo is now home to art galleries, restaurants, and the city's best flea market.

Ready to explore the best of Nashville real estate? Contact Martha Montiel-Lewis today to start your home buying journey. From Downtown Nashville real estate to Belle Meade homes for sale, allow Martha and her team's years of experience and expertise to be your guide to Nashville's luxury real estate market.